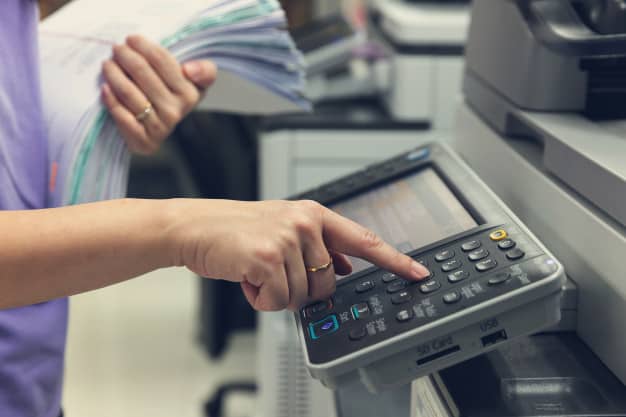 Which Copier Brand Is Best?
Many of us keep our office copy machines far past their due date. While this does help us save money for our companies, it also means it has been many years since we had to buy a copier for the office.
 In that amount of time, technology has moved so far ahead that it can be overwhelming knowing what brands of copiers are the most trusted these days, much less which style of copier we need to order.
 When it comes to copier manufacturers, there are a few standouts that truly make a great product for your business or home office. If you need a copier in your work setup asap, keep on reading. We are going to give you all of our favorite digital copiers as well as reasons as to why each one is so great.
What Today's Copy Machines Have To Offer
These days, there are two main types of copiers that are offered by the top brands. These are multifunction printers and multifunction copiers. Both of these are often referred to by their acronyms, MFP and MFC.
 These products are all-in-one, so they tend to do more than just make copies. They are also able to print, fax, and scan. They are connected to the internet, and are usually compatible with your digital documents. Many of them can even interact with your mobile devices, so you can print from anywhere. Most work in your WiFi network, but many can even be accessed when you are away from the office.
 Another benefit to these copiers is that they can help you get a grasp on who is being wasteful in your organization, and help you develop better printing and copying habits, yourself. They do this by tracking usage, which helps you save money on expensive paper and ink. This will also help your organization be more environmentally friendly.
The Best Copy Machine Brands
Now that you know more about the modern options that are available to you, let's discuss the best copy machine brands on the market today.
Best Budget Copier
Brother MFC-J6945DW INKvestment Tank
This affordable MFC is great for small businesses or those who are working from home. It will help you lower printing costs and keep you on-target towards more sustainable habits.
 This machine comes with about a year's worth of ink. It does this by using ultra high-yield cartridges that work with Brother's "Page Gauge" tracking system to tell you how much ink you have used over a period of time and how much ink you still have left over.
Best Color Copier
Xerox WorkCentre 6515
If you need an MFP that can print in color to enable your creative work and colorful proposals, this is a great option for you.
 Xerox supplies printers that have professional-level capabilities while still fitting in a small space while also working very quickly. It will give your documents sharp and crips colors and lines, and will stay very true-to-color based on what you and your designers are creating.
 The interface of this model is easy to use and to understand. It also has mobile printing functionality, so you can get work done while on the go. Xerox also offers a suite of cloud-based apps, and also offers sustainable features to help your organization be more environmentally friendly.
Best Heavy-Duty Copier
HP Color LaserJet MFP E87660z
If your business needs an MFC that can get a lot done every day, HP's model is hard to beat. This copier can print 300,000 sheets every month.
 We also love this model because it comes ready to use the suite of cloud-based services that we already have on our phones and computers such as Google Drive and Apple Airprint. We also recommend this model for any company dealing with secure data, as HP includes its Sure Start software with its copiers.
Best Easy-To-Use Copier
Sharp MX-4071
Sharp's model is the most accessible copier on our list. This model includes a touchscreen over 10 inches and has plenty of easily understood user manuals.
 With this copier you can also access plenty of cloud-based applications. You can even control the copier with the sound of your voice by integrating Amazon's Alexa service.
 Yourself and your employees can use this copier to print, scan, and even edit documents, right from the machine itself. You are able to adjust colors and complete other finishing touches just by using your voice.