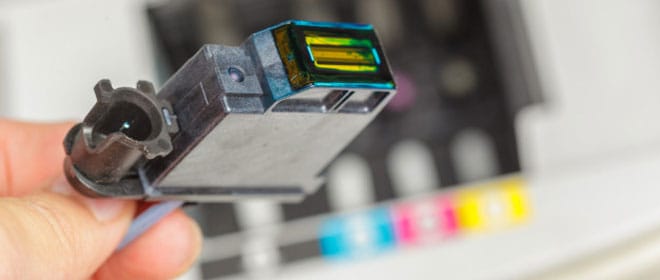 If you are dealing with printer issues, it may be due to a common issue. You may have a printhead that's clogged. So how do you unclog a printhead?
We'll explain what a printhead is and show you a step-by-step guide on how you can unclog one so you can keep your printer running in full-functional order. A good working printer will help you continue to print as many documents as possible so your business can stay ahead of the curve. Let's move on and talk more about the printhead and why it's important.
What Is A Printhead?
A printhead is a component that helps transfers ink to the page you are printing. The printhead will disperse ink droplets using small nozzles that are built within. If the printhead or one of these small nozzles is clogged, you'll notice that your printings will be smudged or streaky.
How To Unclog A Printhead?
One of the reasons why a printhead can get clogged is due to the amount of dust that gets collected over time. This happens all the time since a lot of things tend to sit around and collect dust. With that said, here's how you can clean a printhead so you can do this on a regular basis and reduce the risk of further disaster:
Make sure you have a cartridge of ink installed. If you are running low, change the cartridge before moving onto step.
First, it's important to print a test page to see how bad the situation is. If the test print appears to have some smudges or streaks, you'll know there are some clogs present.
Once you are able to confirm there is clogging, you can utilize some of the following methods. First, let's take a look at the "paper towel method":
a) Paper Towel Method: You are going to need two pieces of paper towels. One will need to be damp, the other dry. With the warm damp paper towel, use it to blot the cartridge with the printhead side facing down.
Ink should be appearing on the paper towel if you have blotted it a few times at this point. Keep in mind that the printhead appears in a gold or copper color. Do not mistake this with the connectors that appear to be of the same color.
After blotting, take the ink cartridge and hold it against the dry paper towel piece for at least 30 to 60 seconds. This process will unclog any dry ink that may be leftover in the printhead. After this process is complete, replace the ink cartridge and do another test print.
If the smudges or streaks continue, then you may need to replace the printhead itself since it might be damaged.
b) Use the cleaning function: Most printers will have a cleaning function that is built-in. From here, you may need to follow the steps outlined in your owner's manual. The cleaning option can also be found under the "tools" section of your printer display.
The process itself may take at least two to three minutes. It's important to do this at least once a month so you can be able to keep your printer head fully functional and free from clogs.
Can you manually clean print heads?
If you're considering the idea of cleaning a printer head manually, you may be looking at something a bit more complicated. This will require such things as paper towels, lint-free cloths, hot water, and a plastic container. You can follow the steps of manually cleaning the printer head by going here.
Do print heads need to be replaced?
On average, print heads can last you anywhere between 1 to 2 years. Barring any damage or irreparable problems, you'll need to replace them within that frequency. If you take good care of them on a regular basis like cleaning them, they may last longer than expected.
Final Thoughts
If you are looking for ways to unclog a printhead, it's important to use one of the three options listed above. If you're having printer problems that may be due to a clogged print head, be sure to clean it before the problem gets worse.
Alternatively, you can do a monthly cleaning so you can be able to stop clogs before they even happen. They can happen simply by collecting dry ink or dust. Either way, it's better to be ahead of the curve than never at all.
When doing a test print to see if everything is OK, make sure you have a good amount of ink to get the job done.