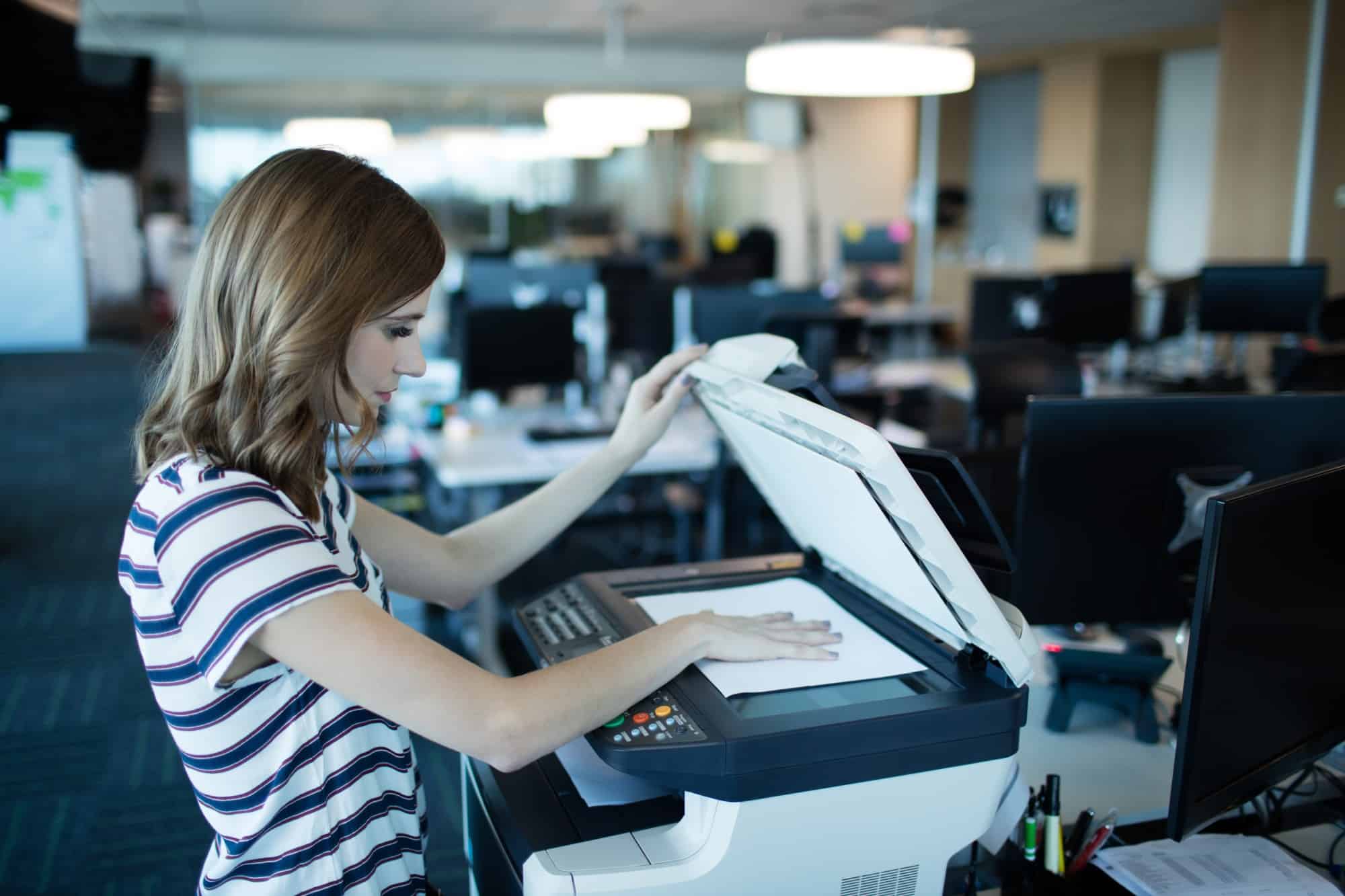 Konica Minolta Bizhub C3320i Printer
In the rapidly evolving world of office technology, the Bizhub C3320i stands out as a beacon of innovation and efficiency. Manufactured by Konica Minolta, this multifunctional printer (MFP) encapsulates the very essence of modern office equipment. As businesses continue to seek streamlined solutions for their daily operations, the importance of multifunctional printers in modern offices cannot be overstated.
These machines, which combine the functions of a printer, scanner, copier, and sometimes even a fax machine, have become indispensable in today's fast-paced work environment.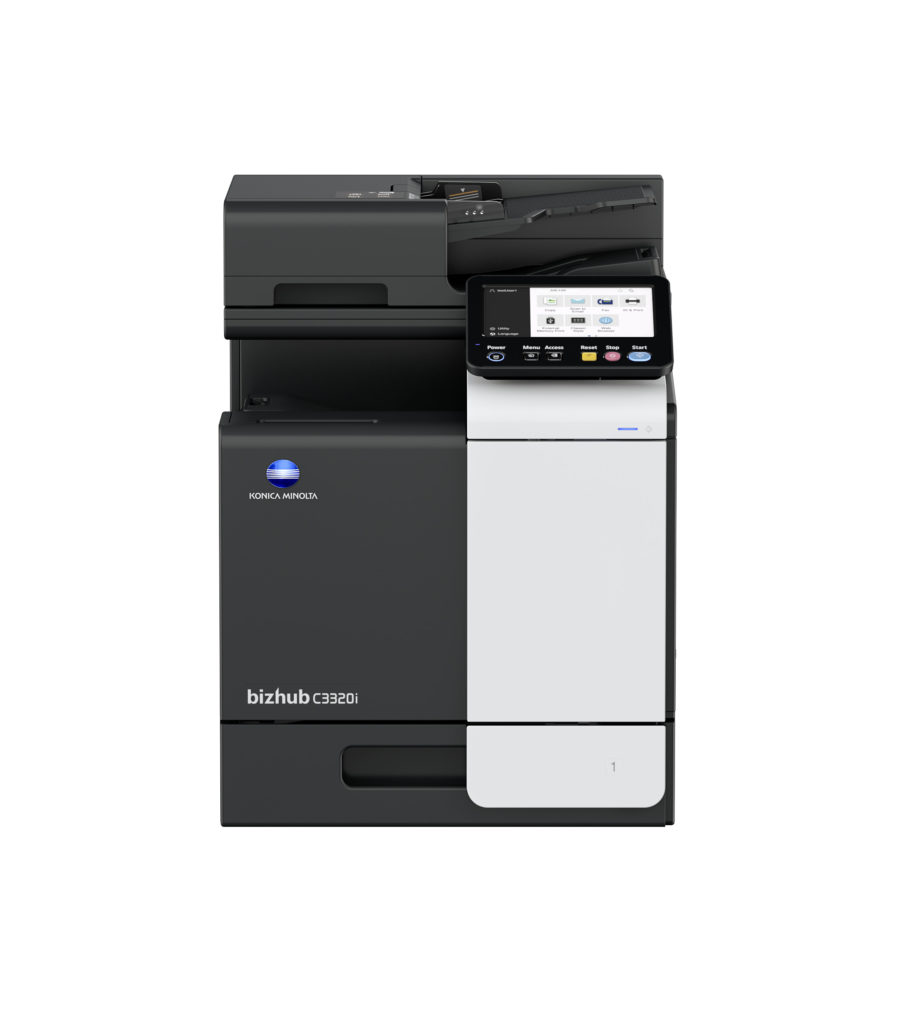 Product Overview
The Bizhub C3320i copier stands as a beacon of excellence in the vast sea of multifunctional printers. It's more than just a device; it's a reflection of Konica Minolta's unwavering dedication to delivering top-tier quality and groundbreaking innovation. Crafted meticulously to address the multifaceted demands of contemporary businesses, this machine guarantees that every print, scan, or copy it produces resonates with unparalleled quality.
In an era where businesses are in a relentless quest for precision, clarity, and speed in their printing needs, the Bizhub C3320i emerges as the go-to solution. It caters to enterprises of all scales, from burgeoning startups to established conglomerates, offering them a printing solution that's both efficient and exceptional.
Key Features
Brilliant image quality at up to 35 ppm: The Bizhub C3320i promises unparalleled image quality, ensuring that every document printed is sharp and clear. With a speed of up to 35 pages per minute (ppm), it's a powerhouse in terms of performance.
Emperon print controller: This feature ensures that every print job is handled efficiently, optimizing the printer's performance and ensuring consistent quality.
Standard dual scan document feeder: Scanning multiple documents? No problem. The dual scan document feeder ensures that scanning is a breeze, whether it's a single page or a stack of documents.
Compact, space-saving design: Perfect for mixed MFP and desktop environments, its compact design ensures that it fits perfectly in any office setting without taking up too much space.
7-inch tablet-like color touch panel with multi-touch support: This feature ensures that operating the Bizhub C3320i is as easy as using your smartphone. With multi-touch support, navigating through the printer's functions is a breeze.
Redesigned user interface for intuitive operation: Konica Minolta has ensured that the user interface is intuitive and user-friendly, making it easy even for those who aren't tech-savvy.
Specifications
System speed: The Bizhub C3320i boasts a system speed of up to 33/33 ppm, both for mono and color prints. This ensures that large print jobs are handled swiftly.
Print resolution: With a print resolution of 1,800 (equivalent) x 600 dpi and 1200 x 1200 dpi, every document printed is of the highest quality, capturing every detail.
Scan speed: Scanning is fast and efficient with a speed of up to 28/28 images per minute (ipm).
Paper formats: The printer supports a range of paper formats from A6-A4 and even custom sizes, ensuring versatility in printing.
Incorporating the latest in printing technology, the Bizhub C3320i is a machine designed to meet the demands of modern businesses. Whether it's a simple print job or a complex scanning task, this multifunctional printer is up to the challenge. With its range of features and top-of-the-line specifications, it's no wonder that many businesses are choosing the Bizhub C3320i as their go-to office printer.
Environmental and Economic Impact
The bizhub C3320i color printer by Konica Minolta is not just a device; it's a commitment to the environment and the economy. One of the standout features of this machine is its low energy consumption. This not only translates to a reduced carbon footprint but also significant cost savings for businesses. In an era where companies are increasingly conscious about their environmental impact, the bizhub C3320i offers a solution that's both eco-friendly and economical. The energy-saving mode ensures that the device consumes minimal power, leading to reduced utility bills and a greener planet.
Security Features
In today's digital age, security is paramount. The Konica Minolta bizhub C3320i color copier understands this and comes equipped with the highest data security functionalities. One of its standout features is the integration of the Bitdefender® anti-virus engine. This ensures that every document printed, scanned, or copied is free from malware and other potential threats. Furthermore, the device offers multiple layers of security to reduce risks and protect data. From ID authentication to secure print functions, the bizhub C3320i ensures that confidential information remains just that – confidential.
Benefits of Buying Used or Refurbished Models
There's a growing trend among businesses and individuals alike to opt for used or refurbished models of devices, and the Minolta bizhub C3320i color copier is no exception. One of the primary reasons for this is cost-effectiveness. Gently used models offer the same functionality and efficiency at a fraction of the price of a new device. Additionally, choosing a refurbished Konica bizhub is an environmentally conscious decision. It reduces electronic waste and promotes the recycling of devices. With the availability of gently used models that come with warranties and quality checks, it's a win-win situation for both the buyer and the planet.
Awards and Recognition
The excellence of the bizhub C3320i hasn't gone unnoticed. It's the proud recipient of the BLI PaceSetter award for ease of use in enterprise devices. This recognition speaks volumes about the device's user-friendly interface, intuitive operation, and overall functionality. Awards like these are a testament to Konica Minolta's commitment to delivering products that not only meet but exceed customer expectations.
What People Also Ask
What sets the bizhub C3320i apart from other multifunction copiers?
The bizhub C3320i is not just another multifunction copier in the market. It is a testament to Konica Minolta's dedication to innovation and quality. One of its distinguishing features is the brilliant image quality it offers, ensuring that every document printed, scanned, or copied is of impeccable clarity and detail. This is further complemented by the Emperon print controller, a state-of-the-art technology that optimizes print performance.
Beyond these, the device is equipped with a plethora of security features, ensuring that data integrity and confidentiality are never compromised. But what truly enhances its appeal is the intuitive user interface, designed keeping in mind the end-user experience. The energy-saving modes are a nod to the growing environmental concerns, making it a sustainable choice for businesses.
How does the bizhub C3320i ensure data security?
In today's digital age, data security is paramount. Recognizing this, the bizhub C3320i has been designed with the highest data security functionalities. A standout feature is its integration with the Bitdefender® anti-virus engine, ensuring that every document is scanned for potential threats, thereby offering an added layer of protection.
Additionally, the device offers ID authentication, which means only authorized personnel can access its functionalities. The secure print functions further ensure that confidential documents are printed only when the authorized user is physically present at the machine, reducing the risk of data breaches.
Can the bizhub C3320i cater to high-resolution printing needs?
Absolutely. The bizhub C3320i is a powerhouse when it comes to printing resolution. It offers a resolution of 1,800 (equivalent) x 600 dpi and 1200 x 1200 dpi. This ensures that every document, whether it's a detailed report, a colorful presentation, or intricate graphics, is printed with the utmost clarity and detail.
Such high-resolution printing ensures that businesses never have to compromise on the quality of their printed materials, making a lasting impression on clients and stakeholders.
Is the bizhub C3320i suitable for large enterprises?
Yes, the bizhub C3320i is designed to cater to the needs of both small businesses and large enterprises. Its fast printing speed ensures that bulk printing tasks are completed swiftly. The versatile functionalities, ranging from high-resolution printing to secure scanning, make it a one-stop solution for all document-related tasks.
The robust security features, including ID authentication and secure print functions, are especially beneficial for large enterprises where data security is a primary concern. In essence, the bizhub C3320i is a multifunctional device that can seamlessly integrate into and enhance the efficiency of any business infrastructure.
Conclusion
In the realm of office technology, the bizhub C3320i stands tall, setting a benchmark for multifunctional printers. Its meticulously crafted features and specifications are a testament to Konica Minolta's dedication to excellence and innovation. One of the most commendable aspects of the bizhub C3320i is its unwavering commitment to environmental sustainability. With features designed to reduce energy consumption and waste, it paves the way for a greener and more sustainable future.
Furthermore, its top-tier security features, ranging from the integration of the Bitdefender® anti-virus engine to ID authentication, ensure that businesses can operate with peace of mind, knowing their data is protected. For those environmentally and economically conscious, the option to choose refurbished models offers both cost savings and a reduced carbon footprint.
Whether you helm a budding startup or oversee a sprawling enterprise, the bizhub C3320i guarantees unparalleled efficiency, top-notch security, and impeccable quality in every task it undertakes. As the business landscape evolves and companies ardently seek solutions that marry cutting-edge office technology with eco-friendliness, the bizhub C3320i emerges not just as an option, but as the definitive choice for modern office needs.