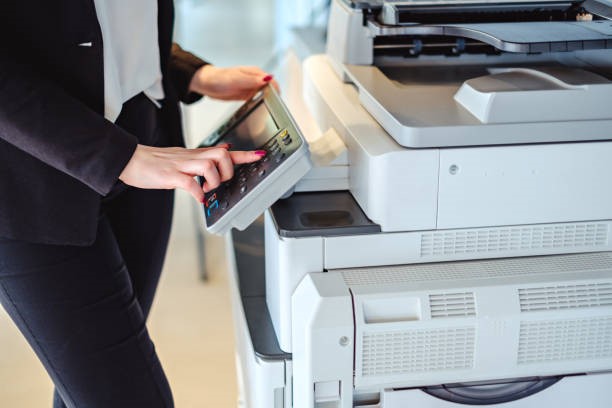 Bizhub 4750i Multifunction Printer
In today's fast-paced business environment, the need for efficient and reliable office equipment cannot be overstated. Enter the bizhub 4750i, a new generation of the bizhub series by Konica Minolta. This multifunction printer is not just any regular office equipment; it's a game-changer.
The bizhub 4750i is the latest addition to the new generation of the bizhub A4 series. It boasts a range of features and specifications designed to bring ease and convenience to its users. With a printing speed of 47 pages per minute (ppm) and a resolution of 1200 dpi, this printer ensures high-quality prints in record time. But what sets the Konica Minolta bizhub 4750i apart from other printers in its category?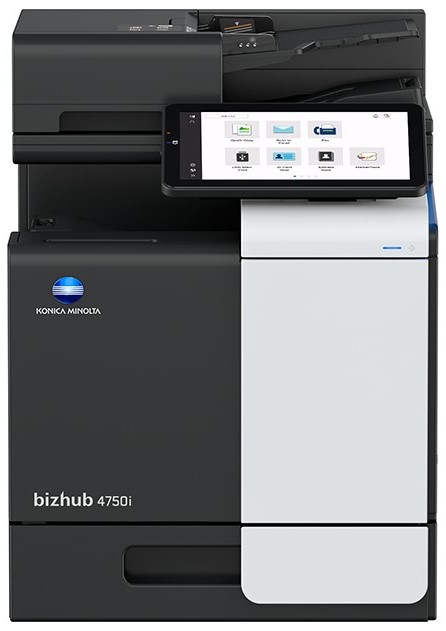 Multifunctionality: Beyond just printing, the bizhub 4750i can scan, copy, and even send emails. It's essentially an all-in-one office machine tailored for businesses.
Updated Features: The updated A4 model maintains Konica Minolta's objective to create value and convenience for our customers. This is especially crucial in a changed work environment with more people working from home. The printer offers options for both network and phone connectivity, ensuring that remote work is as seamless as possible.
Cost-Effective: With its efficient toner usage and competitive price point, the bizhub 4750i ensures that businesses get value for their money. Plus, its multifunction features mean businesses can save on purchasing multiple machines for different tasks.
The importance of multifunction printers for businesses cannot be emphasized enough. They not only save on cost and space but also increase efficiency and productivity. With the bizhub 4750i, Konica Minolta has once again proven its commitment to providing products that offer ease, convenience, and value to its customers. Whether you're a small business or a large corporation, this printer is the perfect addition to your office equipment.
Features and Benefits
Key Features of Bizhub 4750i
The bizhub 4750i stands as a testament to Konica Minolta's dedication to innovation and excellence. As the latest entrant in the esteemed bizhub series, this multifunction printer encapsulates a blend of advanced technology and user-centric design. Let's delve deeper into its standout features:
47 ppm in black & white: Speed is crucial in today's fast-paced business world. The bizhub 4750i addresses this need by offering a remarkable print speed of 47 pages per minute in black & white. This ensures that businesses, whether startups or established enterprises, can handle high volumes of documents efficiently, making it an invaluable asset for bustling office environments.
Paper formats ranging from A6-A4: Versatility is another hallmark of the bizhub 4750i. It supports a wide range of paper formats, from the compact A6 size to the more standard A4. This flexibility allows businesses to cater to diverse printing needs, be it small handouts for a quick team meeting or comprehensive reports for board presentations.
10.1-inch colour tablet-like touch panel: In an era where touch interfaces dominate, the bizhub 4750i doesn't lag behind. Its 10.1-inch colour touch panel mimics the intuitiveness of a tablet, ensuring users can easily select functions, preview documents, or adjust settings. This feature not only enhances the user experience but also reduces the learning curve for new users.
Newly redesigned User Interface: Beyond the touch panel, the overall user interface of the bizhub 4750i has undergone a significant redesign. With a focus on modern aesthetics and user-friendliness, the interface ensures that operations are straightforward. Icons are clear, menus are logically structured, and even those who aren't particularly tech-savvy can navigate and operate the machine with ease.
Incorporating these features, the bizhub 4750i emerges as a powerhouse, designed to meet the multifaceted printing and copying needs of contemporary businesses. It's not just a printer; it's a testament to Konica Minolta's commitment to pushing the boundaries of office equipment technology.
Environmental Impact
In today's world, where sustainability is a major concern, the bizhub 4750i by Konica Minolta stands out with its commitment to reducing environmental impact. The printer offers:
Low energy consumption benefits: This not only helps in reducing the carbon footprint but also results in significant cost savings for businesses in the long run.
Cost-saving and energy-saving modes: These modes ensure that the printer uses energy efficiently, further emphasizing Konica Minolta's commitment to sustainability.
Data Security
Data security is paramount in today's digital age. The bizhub 4750i offers top-notch security features to ensure that confidential data remains safe. These include:
Security functionalities to reduce data loss: This ensures that data is not lost during transmission or printing.
Keeping confidential data safe: The printer comes equipped with advanced security features that prevent unauthorized access, ensuring that sensitive documents remain confidential.
Awards and Recognition
The bizhub 4750i has received accolades for its outstanding features and performance. Notably:
BLI PaceSetter award for ease of use in enterprise devices: This award recognizes the printer's user-friendly interface and its ease of use in enterprise settings.
Konica Minolta's unique control panel and user experience: The company has been lauded for its innovative control panel that offers an unparalleled user experience.
Solutions Offered
The bizhub 4750i stands as a beacon of innovation in the realm of office equipment. Beyond its primary function as a printer, it encapsulates a suite of solutions tailored to address the multifaceted challenges businesses face in today's digital age.
Printer Device Security: In an era where data breaches and unauthorized access are rampant, the security of office equipment is paramount. The bizhub 4750i rises to this challenge by incorporating advanced security measures. It ensures that unauthorized personnel are kept at bay, safeguarding sensitive documents and proprietary information. This feature not only protects the company's data but also instills confidence in clients and stakeholders, knowing that their information is in safe hands.
Well-managed printing and scanning environment: Efficiency is the lifeblood of any successful business. Recognizing this, the bizhub 4750i offers a well-orchestrated environment for both printing and scanning. It streamlines these tasks, reducing potential bottlenecks and ensuring that operations run smoothly. Whether it's batch scanning of documents or scheduled printing tasks, businesses can rely on the bizhub 4750i to manage these with precision.
Mobile Print and Multi-location printing: The modern business landscape is dynamic, with employees often working remotely or from multiple locations. The bizhub 4750i caters to this evolving need by offering mobile print capabilities. Employees can seamlessly print documents from their mobile devices, be it at home, a coffee shop, or a client's office. This flexibility ensures that work doesn't come to a standstill, irrespective of the employee's location.
In essence, the bizhub 4750i is more than just a piece of office equipment; it's a holistic solution, meticulously crafted to empower businesses in their quest for operational excellence.
Bizhub 4750i

Functionalities

The bizhub 4750i is more than just a printer; it's a comprehensive tool designed to cater to the multifaceted needs of modern businesses. Its functionalities extend beyond the basic, making it an indispensable asset in any office setting.

Copy and Fax Functionalities: At its core, the bizhub 4750i is equipped to handle both copying and faxing tasks with ease. Its advanced copying features ensure high-quality reproductions, while the fax component is designed for swift and secure transmissions. This dual functionality transforms it into a versatile office machine, capable of juggling multiple tasks simultaneously, thereby streamlining operations and enhancing productivity.

New User Interface: One of the standout features of the bizhub 4750i is its revamped user interface. This intuitive design ensures that even those unfamiliar with such equipment can easily navigate its myriad functions. The interface is not only user-friendly but also aesthetically pleasing, making the task of printing, copying, or faxing a more enjoyable experience.

Quick Access to Settings: Time is of the essence in any business. Recognizing this, the bizhub 4750i has been designed to provide users with quick access to its settings. Whether it's adjusting print quality, changing paper size, or modifying fax settings, users can make these changes swiftly, ensuring that there's minimal downtime and operations continue seamlessly.
What People Also Ask
What is the print speed of the Bizhub 4750i?
The bizhub 4750i boasts a print speed of 47 pages per minute, making it one of the fastest printers in its category.
How does the Bizhub 4750i ensure data security?
The bizhub 4750i comes equipped with advanced security features that prevent unauthorized access and ensure that sensitive documents remain confidential. It also has functionalities to reduce data loss during transmission or printing.
What are the environmental benefits of using the Bizhub 4750i?
The bizhub 4750i is designed with sustainability in mind. It offers low energy consumption benefits and has cost-saving and energy-saving modes that ensure efficient energy use, reducing the carbon footprint and resulting in cost savings for businesses.
Conclusion
In conclusion, the bizhub 4750i multifunction copier stands as a testament to Konica Minolta's commitment to providing top-tier service and equipment for businesses. This device isn't just an office copier; it's a comprehensive solution that caters to a company's diverse document management needs. With its high capacity for black and white prints and direct authentication checks, businesses can ensure the security and quality of their documents.
The bizhub 4750i offers advanced technology, from duplexing to compatibility with both Android and iOS through features like AirPrint and Mopria. Its security features are robust, ensuring that every document, whether printed, scanned, or emailed, is protected. The product details highlight its high-quality performance, ensuring productive outputs without compromising on cost.
Moreover, its compact design ensures it occupies minimal space, making it a perfect fit for any office environment. With a vast array of software and hardware accessories available in the market, businesses can tailor the device to seamlessly fit their specific requirements. Whether you're seeking an off-lease agreement or looking to repossess, the bizhub 4750i stands out as an effective solution. Its impressive performance, combined with its cost-effective approach, makes it a sought-after resource for businesses aiming to improve their document management processes.
Supreme Office Technology
You can contact us by phone, email, or by visiting our offices: