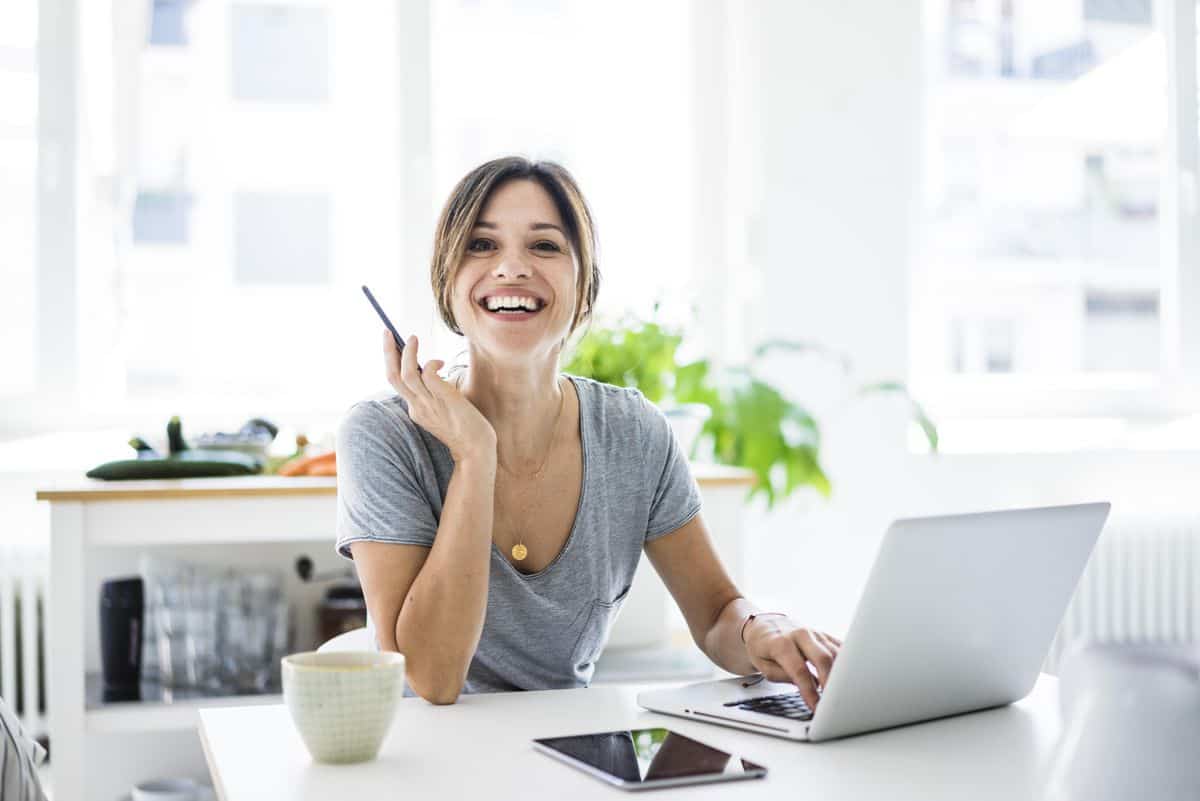 If you're like many people, you may have walked out of your office in mid-March 2020 expecting to return within just a few weeks or months.
Now, in 2021, 1 in 4 of us are still working from home—and that number is only expected to increase as time goes on. But as you get used to this "new normal," it may become clear that the tools you needed for those early remote workdays are no longer cutting it.
When the time comes for you to invest in upgrades for your home workspace, a few key office essentials can make all the difference. Here are the tools you need to succeed in your new routine.
1. A Dedicated Desk
Working at your coffee table, kitchen table, or in your bed may work for a few days, but if you expect to be working from home for a while, it's best to have a dedicated desk.
Research shows that we're more productive when we separate our living area into spaces for relaxation, sleep, and work—and a desk is the first step to creating your home office. If possible, convert a table into your new workspace, or purchase a new one you can use.
2. An Ergonomic Chair Setup
There's nothing like chronic back pain to eat away at your productivity. This is a shame, as this issue is largely preventable—provided you make time and opportunities for good posture.
When it comes to remote work, one of the best ways to prompt the correct posture is to design your workspace with ergonomics in mind. The right setup will prevent slouching, support your spinal alignment, and even enhance your overall comfort!
3. A Standing Desk Converter
We all know sitting all the time is bad for our health, but it can be hard to factor that knowledge into your work life. For a little more versatility, a standing desk converter can be a lifesaver that doesn't even have to break the bank. Your back—and your productivity—will thank you!
4. Noise-Canceling Headphones
From frustrating housemates to loud streets to boisterous kids, it can be hard to find peace and quiet when you're stuck in your home office.
That's where noise-canceling headphones come in. With great audio quality and the ability to block out distracting sounds, these undervalued office tools are a must-have for any remote worker. From video calls with colleagues to hearing your work playlist, they're a great way to stay focused on what's in front of you.
5. An Ergonomic Keyboard
The right keyboard is essential when it comes to anyone's office supplies. Whether you're on a Mac or a PC, finding an ergonomic keyboard can help keep your wrists in check, preventing repetitive injury conditions like carpal tunnel syndrome.
6. An All-in-One Printer and Scanner
Not every remote worker will need this tool, but when you need one, you need it! A reliable printer can help save you trips back to your physical office—if your company still uses one—or to a local printer.
Of course, it's important to consider the full ecosystem you'll be stepping into with a printer purchase, from ink cartridges and toner to paper and maintenance. You'll also want to consider any additional features that are important to you, like the pages per minute, app connectivity, or extra paper trays.
7. A File Tray or Cabinet
Just because you're working remotely doesn't mean you've gone completely digital. Anyone storing paper and documents at home needs a functional filing system to keep things organized. From a simple filing tray to put on your desk to a dedicated file cabinet, you'll want to make sure you can access the documents you need right when you need them.
8. A Computer Monitor
It's certainly possible to do all of your work on your laptop, but spending eight hours per day hunched over a small screen can be a little confining for most.
Instead, consider adding a dedicated computer monitor to your office setup. With a monitor, you'll be able to use your laptop to create a dual-screen set up for more efficient work. In addition, a computer monitor can help you keep from bending your neck or hunching to see your laptop screen, which can save you a great deal of future neck tension!
9. A Desk Lamp
For times when your work hours stretch beyond the average nine-to-five, you'll want to be able to burn the midnight oil. Today's desk lamps span from practical yet classy tools to remarkably tech-friendly devices, boasting everything from USB charging to color-changing properties. Whether you need a flexible lamp head or a wireless charger, consider investing in one that will suit your needs through the pandemic and beyond.
10. A Surge Protector
This may not be the most stylish purchase you make for your home office, but it may be the most important one. To protect all of the devices above, you'll want a surge protector to keep random power spikes at bay.
Some modern options come with voice compatibility and USB-charging capabilities, but the most important factor to keep in mind is the surge protector rating. Depending on how much you're protecting, a device capable of protecting against spikes of 1000-2000 joules will be more than enough.
Make the Most of Your Office Essentials
As a remote worker, the environment you create for yourself has a huge impact on your output and productivity. Getting your hands on the office essentials above can go a long way in improving your work-from-home experience, so be sure to invest in the tools you need!
If you're considering printing or copying technology for your home workspace, don't forget that we're here to help. From our selection of printers, scanners, and copiers to our maintenance services, we have the tools you need to succeed. Get a quote today or contact us for more information.